Taos as an Art Colony: From the Taos Society of Artists to the Present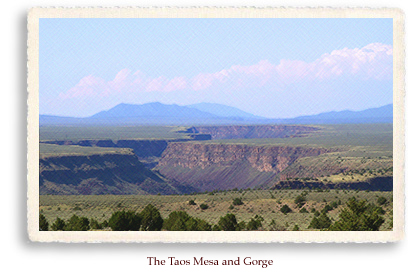 A Unique Land and Culture
Ask just about anyone in Northern New Mexico what is so special about this sacred place, and they will tell you, "the land." This becomes quite evident if you travel the river road north to Taos. The flat land of the Espanola Valley slowly gives way to rocky outcroppings and small peaks which glow purple and red in the early evening sun. A slow elevation is your companion as you follow the winding river through the canyon. Then suddenly, at the crest of a small hill, you are at one end of the Taos Mesa. Laid out before you is a sweeping vista of high desert, dotted with chamisa and sagebrush, and punctuated by the jagged cut of the Taos Gorge, with the Taos Mountains standing in the distance, and that singular expanse of blue sky.

It's no wonder Taos became home to artists of all disciplines. Serendipity brought two of the first Society of Artists to Taos by chance on September 3, 1898, when New York artists Ernest L. Blumenschein and Bert Geer Phillips sought repair for a broken wagon wheel on a sketching and painting trip to Mexico. According to legend, "Blumy" as he was called, left the wagon and hiked into town to arrange for the repair. By the time the wagon was ready, Phillips and Blumenschein were so taken with the landscape and local culture, they decided to stay in Taos to paint. Several months later, Blumenschein would return to New York without his friend, who had since fallen in love with the local doctor's sister, and decided to stay. Blumenschein would return nearly every summer until 1919, when he and his family made Taos their permanent home. The Blumenschein Home is now a museum which is maintained much as it was when the artist and his family lived in Taos.

Both Blumenschein and Phillips had traveled and studied in Europe, coming away from that experience with the desire to establish an American artist colony. Their discovery of the rugged landscape and spectacular light in Taos inspired the location.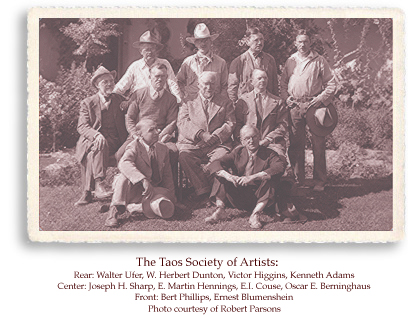 A Gathering of Like Minds
On a subsequent trip to Paris, Blumenschein met E.I. Couse and told him of his experiences in the mystical mountainous region he had discovered. Couse had heard of Taos before, from Joseph Henry Sharp, and Blumenschein's further tales of high desert expanses and the Rocky Mountains covered in aspen, pine and wildflowers inspired Couse to journey to Taos in 1902. Oscar E. Berninghaus soon joined the Taos artists, as did cowboy and ranch life painter Herbert Dunton. Sharp himself, who ironically was the first to visit Taos on a commission from Harper's Weekly, finally settled in Taos in 1909, when he purchased an old Penitente chapel to use as a studio.

On July 1, 1915, the Taos Society of Artists was founded, the six original members becoming known as the Taos Founders. The purpose of the Society was much the same as an artists cooperative, to promote the showing and sale of their work. To this end, exhibitions of their paintings circulated across the country, exposing art lovers to unfamiliar cultures and landscapes, and ultimately promoting Taos as one of the most important art colonies in America.

Walter Ufer and Victor Higgins were voted into the Society as active members in July 1917. Julius Rolshoven became a member in 1918, followed by E. Martin Hennings in 1924. The only woman of the group, Catherine C. Critcher, also became a member in 1924, and Kenneth Adams, the last and youngest of the group, became a member in 1926, just one year before it's dissolution in 1927.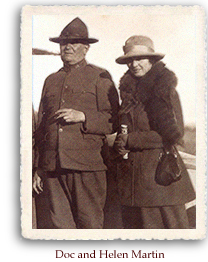 Friends of the Arts
An early meeting place for the Taos Society of Artists was provided by Helen Martin, sister-in-law of Bert Phillips. A batik artist herself, she was also the wife of Dr. Thomas (Doc) Martin. Doc and Helen came to Taos in the 1890s, purchasing the largest of several adobe houses which at that time surrounded a small plaza. Doc's concern for the town he had adopted made him a popular and well respected man, and one of a very few of that time who was not touched by one scandal or another. It was in the Martin's dining room that the Taos Society of Artists was founded.

Over time, the Martins bought the other buildings on the plaza, which they rented to artists and writers. And when Doc died, Helen bought the last remaining building, formally opening the Hotel Martin in 1936. The Hotel would later be renamed the Taos Inn. The plaza's community well, now a fountain, is part of the Inn's stunning two-and-a-half story lobby, with hand-hewn vertical vigas rising the entire height to a stained glass cupola. The Martin's commitment to the arts continues today at the Taos Inn, with invitational exhibits of the best Northern New Mexico art, a "Meet The Artists" series, and sponsorship of the Taos Talking Pictures Festival.


Mabel Dodge Luhan
In the following years, one woman more than anyone would become responsible for expanding the Taos art colony, both in size and reputation, by bringing American and European artists, writers, and luminaries to Taos. Socialite, heiress, columnist and arts patron, Mabel Dodge Sterne came first to Santa Fe to join her third husband, artist Maurice Sterne. Disenchanted with her marriage and her husband's Santa Fe friends, Mabel insisted on immediately making a trip to Taos in the dead of winter.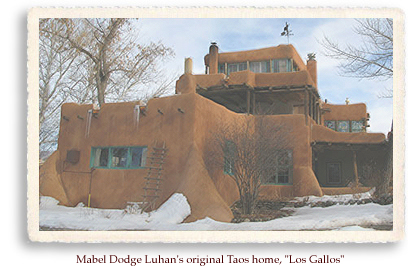 She was enamored of the grand opposition of the magnificent landscape and its humble little town. Almost immediately upon arriving in Taos during the Christmas season of 1917, Mabel met Tony Luhan, a Taos Pueblo Indian. Much to the dismay of her husband, the two were obviously drawn to each other. During the winter months of 1917-1918, Tony would appear; sometimes unpredictably, and sometimes at Mabel's invitation to have dinner and meet her guests.

In the summer of 1918, Tony suggested a home for Mabel on the edge of Taos Pueblo lands. The homestead sat on 12 acres, and dated back to the 18th century. The property had an orchard and traditional acequia. It was, and still is, a magnificent estate, with unspoiled views of the Taos Mountains. Mabel purchased the property in June of 1918, and set Tony to work organizing the crew which would transform the homestead into a sprawling Pueblo Revival villa. The construction of the big house was as much an act of courtship as it was the creation of a building, with Mabel and Tony collaborating daily on the construction of their dream home. Coming to be known as Los Gallos, the project would grow over ten years to an impressive estate of six houses, corrals, barns and stables. As more and more artists and writers flocked to Taos at Mabel's invitation, she and Tony found it necessary to build a rambling hacienda to house their many guests. The guesthouse is now the Hacienda del Sol (House of the Sun) Bed and Breakfast. This lovely Inn is surrounded by still-unspoiled pasture land with stunning views of the Taos Mountains, where the rooms once occupied by D.H. and Frieda Lawrence, Georgia O'Keefe, Alfred Stieglitz and Ansel Adams overlook beautiful gardens bursting with thousands of daffodils and tulips, fruit trees and shrubs.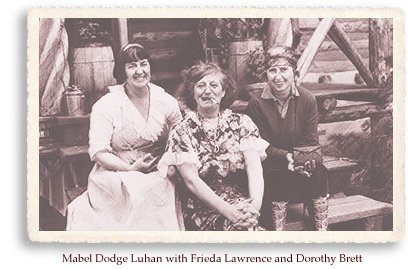 Mabel's Salon
Tony and Mabel later built a grand new home on Morada Lane which blended Pueblo, Spanish Colonial, and even Tuscan styles, and Los Gallos was used to house their growing number of guests.

Mabel decided Taos was the perfect venue for the remaking of Western Civilization, believing that the native Indian culture held the cure for the souls of jaded modern-day humanity. For this purpose, D.H. Lawrence was Mabel's most desired guest. She saw him as the ultimate spokesperson for this new Modernist movement. Taos would be the center of new Americanism in art, though it held its sway over Europeans as well, among them Aldous Huxley, Carl Jung and Leopold Stokowski, to name a few.

At first, Lawrence resisted Luhan's invitations. But after much pleading by Mabel with famous friends and Lawrence's wife Frieda to intervene, they finally arrived in Taos in 1922. Initially, the Lawrences were Mabel's personal guests, but relations between them deteriorated rapidly, and she quickly dispatched them to a ranch she owned in the mountains north of Taos.

Luhan later made a gift of the ranch to the Lawrences, but they were uncomfortable with being indebted, so in return, they presented her with the manuscript of "Sons and Lovers." It would prove a bad trade financially, as the ranch was worth about $1,000, while the manuscript is thought to have been worth up to $50,000. For years Lawrence had dreamed of founding a utopian community, and had hoped to do it in Taos, but in three visits to New Mexico during the period of 1922-1925, he ultimately spent only 11 months at the ranch. But D.H. and Frieda dearly loved it, and it was the only home they ever owned.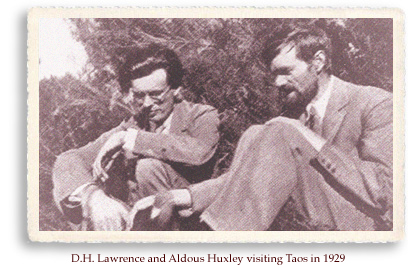 D.H. Lawrence in Taos
At the ranch, Lawrence wrote under a pine tree, which would become immortalized by Georgia O'Keeffe in her painting "The Lawrence Tree." Inspired perhaps, by O'Keeffe's artistic love affair with the area, Lawrence himself took up painting, signing his works "Lorenzo." His paintings were exhibited in London in 1929, but the show was closed immediately on the grounds of obscenity, probably based as much on Lawrence's notoriety as the author of "Lady Chatterley's Lover," as the paintings themselves. The paintings were condemned to be destroyed, but were spared when Lawrence promised to remove them from British soil. Today, nine of his paintings hang in the La Fonda Hotel on the Taos Plaza.

Lawrence also found the climate in Taos to be advantageous to his health, as he suffered from tuberculosis. This saw a factor which came into play for others as well, including Russian artist Nicolai Fechin, who had fallen in love with Taos during a visit. He moved here with his wife and daughter in 1927.

The Fechin family lived for some time with Mabel Luhan, but quarreling forced the family to move. Fechin purchased an adobe home, which he immediately set out to reinvent in his own style. One of the most unusual and beautiful homes in Taos, this adobe, filled with Russian wood carvings, is now The Taos Art Museum.


An Era Ends...and Another Begins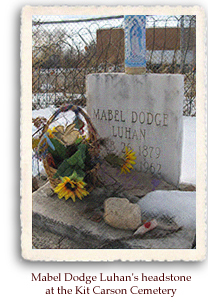 While Mabel's homes were the setting for many affairs and feuds, they always remained a center of creativity and inspiration. Mabel herself, however, was never completely embraced by the locals, the consensus being that she was "playing" at being native, and rumor had it that she paid off Tony's first wife to disappear. Mabel Dodge Luhan died in the setting she had come to love so dearly in 1962. She is buried in the Kit Carson Cemetery. Tony Luhan was buried at the Taos Pueblo beside his first wife.

In more recent times, Taos has been home to world renowned artists such as R.C. Gorman, J.D. Challenger and Bill Rane.

Taos still enjoys the presence of a valuable link to the original founders in painter Ouray Meyers, son of legendary artist, writer, and trader Ralph Meyers. Many of the Taos masters were close friends of the Meyers family. Joseph Sharp, Buck Denton, Leon Gaspard, Nicolai Fechin, Dorothy Brett, and Georgia O'Keeffe were frequent visitors in the Meyers' home, and as a boy, Ouray watched and listened to them. From their example, he learned about both fine art technique and fine art spirit. Influenced by these early Taos painters, he went on to forge a style of his own which is unique and unmistakable. Ouray Meyers is the living connection between the original Taos Founders and the new generation of artists which makes up this ever-evolving fellowship.

The arts still flourish in the tiny outpost of Taos, New Mexico, which has drawn artists, writers, explorers, and vagabonds for more than a century. Today, with an estimated 250 working artists and nearly 100 art galleries, Taos remains a vital and ever-growing artist community.

Artist Biographies:
Georgia O'Keeffe


Art Museums associated with the Taos Society of Artists

View the work of contemporary Taos artists

Canyon Road and the Santa Fe Art Colony